Description
Magewell Ultra Stream SDI is a Single-Channel HD Streaming Encoder that makes live streaming remarkably easy for everyone! Supports up to 2K60p 3G-SDI input and loop-through with embedded and analogue audio.
Magewell Ultra Stream SDI encoder enable users to record or stream high-quality video with one click using on-device buttons or an intuitive smartphone app. Customers can stream live to popular services such as YouTube, Facebook Live and Twitch or to a custom-specified RTMP server, and can simultaneously record video as files to a USB drive or the associated smartphone.

Single-Channel HD Streaming Encoder – Making live streaming remarkably easy for everyone
Stand-alone device; no computer needed
Control via on-device buttons or intuitive Android/iPhone smartphone app
LED indicators display status
Live Stream to the Platforms of Your Choice
Ultra Stream SDI standalone Encoder, encode and stream at up to 1080p60
Stream to YouTube, Twitch or Facebook Live with one click
Stream to a custom RTMP server
Record High-Quality Video for Storage and Sharing
Preview, record & stream simultaneously
Record to MP4 files at up to 1080p60
H.264 video encoding with AAC audio
Save to mobile phone or to a connected USB flash
Support 2K Input and Loop-Through
Supports inputs up to 2048x1080p60
Loop-through at 2K for displays
Add Your Narration – Monitor Your Audio
Connect a microphone via analog audio input
Monitor SDI
Wired & Wireless
The Ultra Stream SDI can be connected to the Internet via Ethernet or Wi-Fi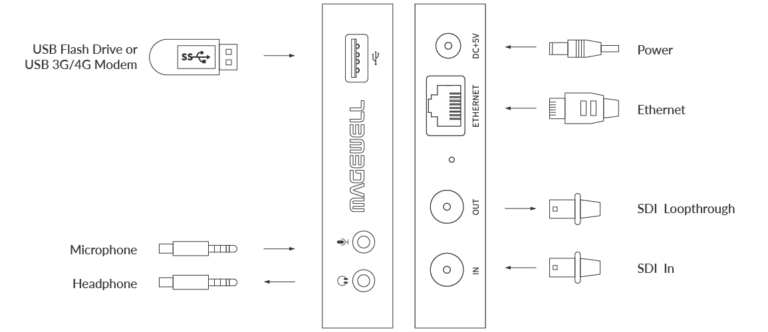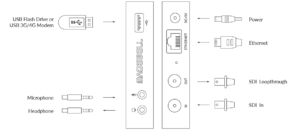 A new web interface, enabling users to control Ultra Stream encoders through a web browser. While the smartphone app continues to provide the simplest way to locally manage the device, the browser-based interface enables customers to remotely control the encoder from anywhere via VPN or access it from a desktop computer over wired Ethernet. Multi-level user management in the web interface allows access to administrator functions to be restricted to authorized users.
Developers wishing to integrate control of Ultra Stream SDI standalone encoder into their software applications also gain important new capabilities, with an API enabling them to leverage the devices' robust functionality in their own branded interface.
While the earlier configuration features an HDMI input interface, the new Ultra Stream SDI captures, encodes and streams HD or 2K video at resolutions up to 2048×1080 over 3G-SDI connectivity. Support for embedded SDI audio is augmented by an analog microphone input and a headphone output for monitoring, while an SDI loop-through connection enables source signals to be simultaneously sent to a monitor or other production equipment.
The ultra-compact Ultra Stream SDI measures just 4.1 inches (104.6 mm) by 3.7 inches (94.2 mm) with a height of 1.1 inches (28.5 mm), and weighs only 5.1 ounces (143.3g). Like its HDMI-equipped counterpart, Ultra Stream SDI offers both wireless and wired network connectivity – with built-in Wi-Fi as well as an RJ-45 Gigabit Ethernet port – in addition to the aforementioned optional mobile broadband modem support. Mobile broadband support and the new Access Point mode are available
Interface
H.264 Encoding
Software Environment
Streaming Server
Others
Video input interface
• SDI x1
• Support up to 2048x1080p60
Loop-through Interface
• SDI x1
• Support up to 2048x1080p60
USB Interface
• USB 2.0 for USB Flash Drive
or USB 3G/4G Modem
Audio Interface
• Headphone Output
• Microphone Input
Network Interface
• Ethernet Interface
Power Interface
• DC+5V
Main Stream
• Up to 1080p60

Sub Stream
• Up to 720p30

HEVC Encoding
Record to MP4
Mobile OS
• Android, iOS

Firmware
• Upgradable firmware
Preset
• Youtube Live, Twitch, Facebook Live

Custom
• RTMP
LED Indicators

2-year warranty

Internal SD card