Description
Magewell USB Capture HDMI Gen 2 – hdmi capture record or stream
Easy to Use · The Magewell USB Capture Gen 2 range – Users don't need to install drivers on Windows , Linux, or Mac OS X.  The dongles are  plug-and -play and driverless. The dongles automatically determine the input video format and automatically convert it to the specified output size and frame rate. · Automatically determine the input audio format and auto. convert it to 48KHz PCM stereo audio. The Magewell HDMI to USB capture devices are compatible with various software with DirectShow architecture. To name a few, xSplit, Streamstar, Vidblaster, VideoStitch, vMix, wirecast, Flash Media Live Encoder, etc. The Magewell USB Capture HDMI Gen2 dongles run stably on the three major systems, including Windows (7, 8, 8.1,10), Linux (kernel version 2.6.38 and above), OS X 10.9–10.11, macOS 10.12.
Plug & Play – hdmi capture record or stream
The magewell usb capture hdmi gen2 Capture box is a truly plug and play USB 3.0 device. This USB HDMI device does not need any drivers to be installed, and it does not even need an external power source. This tiny device only has an USB 3.0 port and HDMI input. The USB capture HDMI devices also support the USB 2.0 port, however the real-time frame rate will be reduced due to limited bandwidth. Users can also use a USB 3.0-to-Type C cable to connect it via USB Type C interface on the computer.
With a ruggedized metal housing, the USB Capture HDMI device is suitable for all kinds of mobile video capturing settings and even for outdoors. The housing is more than pleasant to the eye, which also helps to cool the chip effectively.
Magewell USB Capture HDMI Gen 2, SDI, AIO Range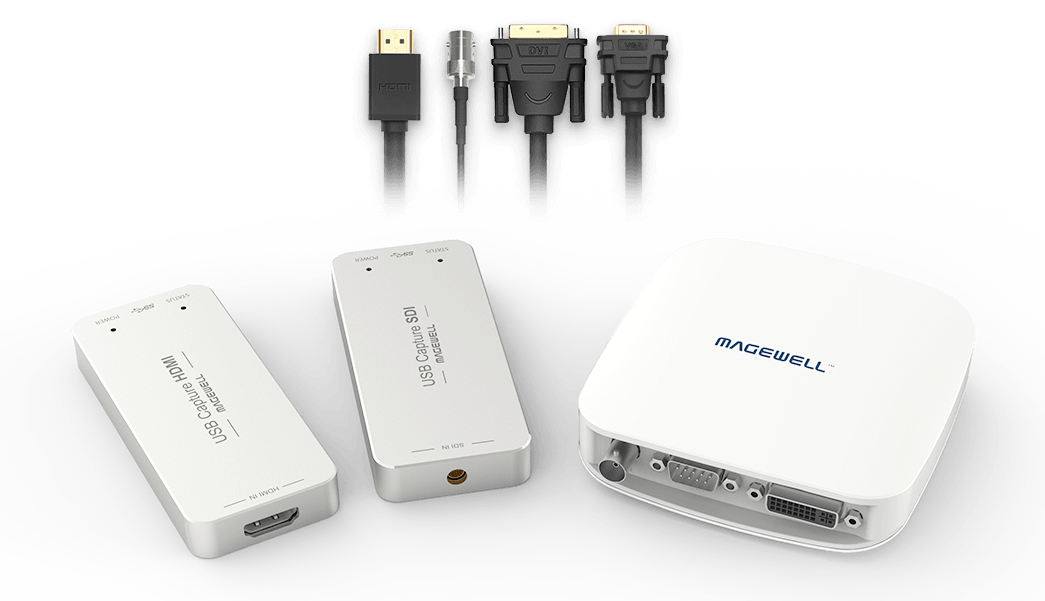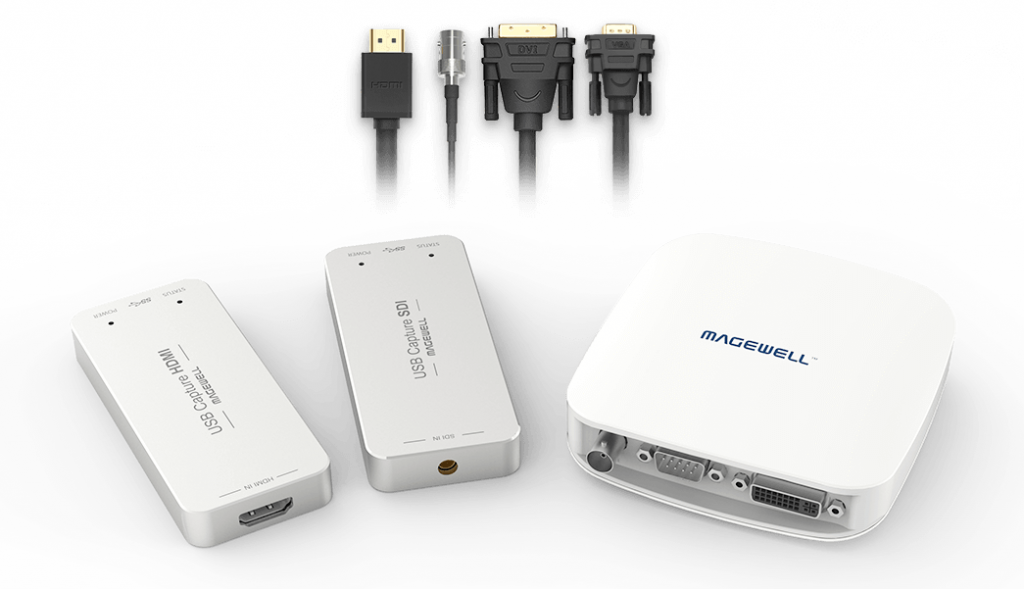 Features
No need to install drivers in Windows, Linux, and Mac OS X, real plug and play.

Determine the video input format and automatically convert it to the specified output size & frame rate.

Auto. determine the audio input format and automatically convert it to 48 KHz PCM stereo audio.

The Magewell USB Capture HDMI Gen 2 Device Supports up to 2048 x 1260p 60Hz video input.

Video output support up to 1920x1200p 60 Hz.

The video & audio processing is done by the dongle and will not occupy much CPU usage.

The processing includes up/down scaling of video resolution, frame rate and audio sampling rate.

Support brightness, contrast, hue, saturation, and other image adjustment functions.

Support output format: 4:4:4, 4:2:2, YUY2, RGB 24, 8 Bit.
Interface
Video Engine
Signal Detection & Support
Software Environment
Input Interface
• HDMI x1
• Support input resolution up to 2048×2160 pixels

Host Interface
• USB 3.0

8-bit video processing

Deinterlace

Cropping

Color Adjustment

Color Space Conversion

Up/down Conversion

Aspect Ratio Conversion

Mirror and Flip
Auto Detection of Input Signal Format

3D HDMI
OS
• Windows, Linux, Mac, Chrome OS

Driver and Firmware
• Driver Free, Updatable Firmware

Included Software
• USB Capture Utility, Capture Express

Compatible Software
50+
USB Capture HDMI Downloads
USB HDMI Capture FaQs
Compatible Software