Description
The Magewell Pro Convert for NDI to AIO hardware-based NDI decoder. Converting live NDI streams into high-quality SDI or HDMI outputs for connection to baseband devices such as monitors and projectors, the low-latency decoder simplifies the use of NewTek's popular media-over-IP technology in applications such as digital signage, video walls, image magnification (IMAG) in churches and entertainment venues; and other presentation applications.
Supported software includes OBS, XSplit, vMix, VidBlasterX, Wirecast, streamstar, mimoLive and any NewTek NDI-enabled encoding or streaming software. NDI® Output Format Includes Support for 4:2:2 8-bit output, up to 2048 x 1080 60fps output
The Pro Convert for NDI to AIO decodes NDI streams and outputs them over HDMI or SDI interfaces at resolutions up to 1080p HD. Users wishing to decode and output 4K NDI streams can do so with the newly-upgraded Pro Convert HDMI 4K Plus or Pro Convert SDI 4K Plus encoder/decoder models.
The Pro Convert for NDI to AIO lets integrators and end-users convert any NDI stream for output to baseband presentation or distribution equipment such as displays, projectors and routers. It can also be used to integrate legacy equipment such as switchers into NDI-enabled production workflows, or simply paired with an NDI encoder to enable long-distance transport of audio, video and power (PoE) over a single IP network cable.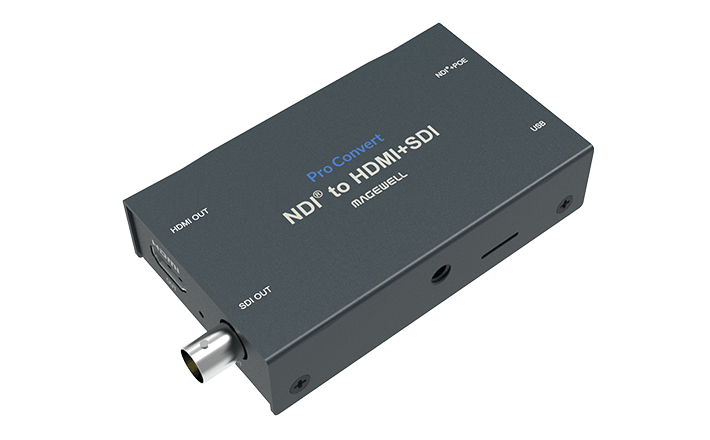 Interface
The compact, plug-and-play Magewell Pro Convert NDI to AIO features DHCP-based automatic network configuration, while a browser-based interface provides access to status monitoring and advanced features such as FPGA-based up/down/cross-conversion. Two on-device buttons also enable users to select source content and match the output format to their target display without requiring a computer: one for choosing between all NDI streams available on the network, and a second for picking a preset output resolution and frame rate.
The Magewell Bridge software supports all resolutions and frame rates available through the associated capture device – including Ultra HD video with Magewell's 4K capture models – plus up to eight channels of audio. The software can convert multiple input channels to NDI simultaneously when used with multi-channel capture card models or several Magewell capture devices in the same computer.
About NDI –  NDI software is in the hands of millions of customers worldwide and allows multiple video systems to identify and communicate with one another over IP. NDI can encode, transmit and receive many streams of high quality, low latency, frame-accurate video and audio in real time. This benefits any network-connected video device, including cameras, converters, video mixers, graphics systems, capture cards, and many other production devices.
Further Resources
| | |
| --- | --- |
| Magewell Bridge for NDI® | Select |
| NewTek NDI® Tools | Select |
| Compatible Software | Select |
| User Manual for Pro Convert Encoders | Download |
| User Manual PRO Convert Decoders | Download |
| Short FAQs about Pro Convert | Download |
| Description of Mini-DIN8 Breakout | Download |
| Pro Convert Product Selector & Downloads | Select |
Interface
Set Buttons
Output Feature
Firmware
Others
Output interfaces
• 3G SDI
• HDMI 1.4

USB interface
• USB2.0 for power and data transfer

Network interface
• 10/100/1000 Mbps Ethernet
• Support IEEE 802.3af PoE
Preset
Long press:set the output video format to auto
Short press:rotate the preset output resolution list

Source
Short press:rotate the NDI® source detected on the LAN
Support outputting video streams at the optimal resolution for NDI® source automatically
Upgradable firmware
LED Indicators

2-year Warranty

1/4-20 Mounting Hole