Description
Magewell Ultra Encode SDI Plus
Our Ultra Encode family of universal live media encoders offers systems integrators, streaming professionals, and OEM partners a flexible and affordable encoding solution for applications including live streaming, AV over IP, remote contribution, IP production workflows and much more.
Available in HDMI and SDI models, it builds on the functionality of the Ultra Encode family with expanded features including 4K encoding and streaming from the HDMI input; simultaneous multi-protocol streaming; higher streaming bitrates; file recording; and much more.
This device is ideal for high-quality live streaming of content including sports, education, and live events as well as IP-based production and AV-over-IP.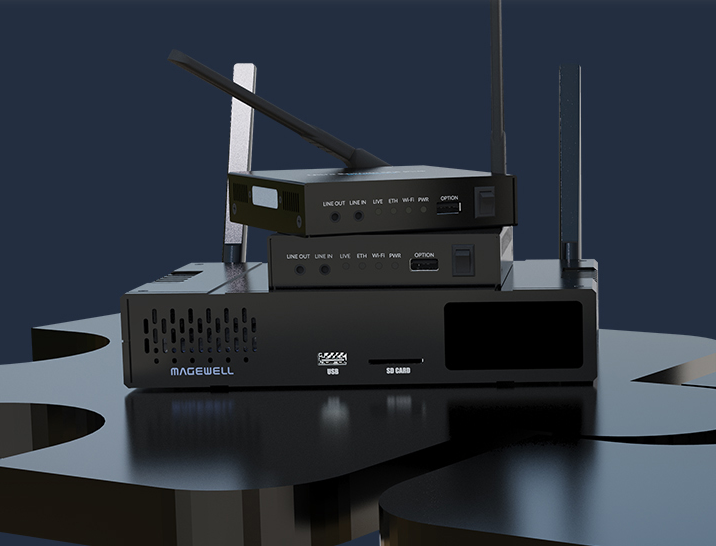 Features
The Magewell Ultra Encode SDI Plus Encoder supports multiple video encoding formats – including H.264, H.265 (HEVC), NDI |HX2, and NDI |HX3 – and a wide array of delivery protocols including RTMP, RTMPS, SRT, RTSP, RTP, HLS, TS over UDP, TS over RTP, and TVU's ISSP technology. Up to eight channels of audio can be encoded in AAC format.
Encoder is ideal for broadcast video and audio, natively support live broadcast for Facebook, YouTube, and Twitch, as well as WOWZA, your own site, with multi-platform distribution. To customize encoder perfectly for your session, we have Web UI, where device work status, a thumbnail preview window and tabs for streaming settings, analytics, and stream health monitoring are provided.
Device Interface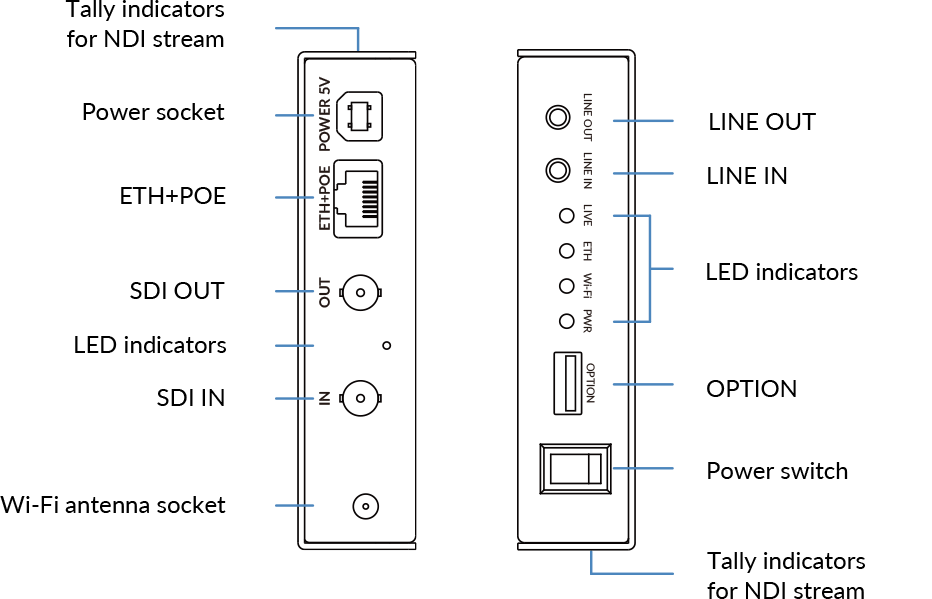 Specifications and Features
Input Features
Support for up to 4096×2160 30fps input and loopthrough signals
Input & loopthrough 16-Channel SDI embedded audio
Input audio from 3.5 mm LINE IN
Encoding Features
Dual stream encoding profiles: main stream and sub stream up to 4096x2160p30
Max bitrate: 62Mbps (NDI® HX3), 32Mbps (Others)
Support for H.264/HEVC video encoding
Provide video aspect ratio conversion, image rotation and cropping for the main and sub streams
Encoding 8-channel AAC and audio channels mapping
Side-by-Side 3D video encoding
Streaming Features
Natively support Facebook, Twitch, YouTube and WOWZA
Supported streaming protocols: RTSP/RTMP/RTMPS/SRT Caller/SRT Listener/NDI® HX2/NDI® HX3/HLS/TS over UDP/TS over RTP/TVU ISSP
Allow simultaneous 6 sessions over multiple streaming protocols
Support for streaming schedule
Recording Features
Record to internal storage (128GB), external USB storage or network attached storage (NFS/CIFS)
Automatically upload recorded files to remote file storage platform
Video recordings in MP4, MOV or TS format
Normal recording and loop recording supported
Support for recording schedule
Others
PoE available
Tally lights for NDI® HX3
Remote control via Web GUI and Control Hub
Provide HTTP APIs