Description
The plug-and-play Magewell Pro Convert SDI 4K Plus supports video up to 4K at 30 frames per second with embedded audio over a 6Gbps SDI interface. Automatic input format detection and DHCP-based network configuration eliminate the need for manual setup. Users can simply connect the device, and the encoder will convert or encode the source video automatically at its native resolution and frame rate. An SDI loop-through connection allows the input signal to be sent simultaneously to additional displays or equipment without external splitters or routers, enabling sources to be easily used in new IP workflows without disrupting the customer's existing traditional video infrastructure.
The Magewell Pro Convert SDI 4K Plus offers a wide range of valuable features for live production use. The compact device features a 1/4″-20 thread for use with standard camera-mounting accessories, while preview and program tally lights provide visual indication when the output NDI stream is being used by another application. A PTZ camera can be connected to the converter and controlled via NDI, while power for the unit can be supplied via Power over Ethernet (PoE) or the included power adapter.

The 4K SDI model is the second offering in the Pro Convert product line. It joins the recently-introduced Pro Convert HDMI 4K Plus, which can convert HDMI inputs up to 4K at 60fps. Additional Pro Convert models, including 1080p60 configurations for users not requiring 4K resolution, are also planned.
Interface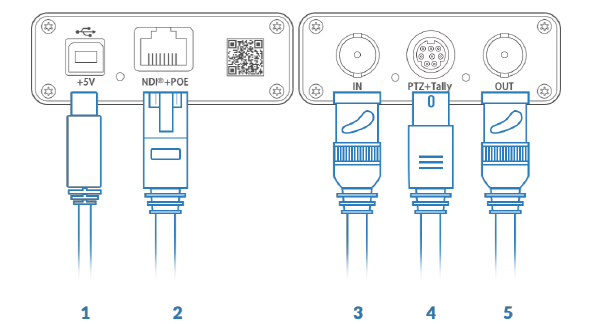 For users wanting greater control of the conversion process and the rich features of the Pro Convert SDI 4K Plus device, an intuitive browser-based interface provides access to status monitoring, advanced settings and FPGA-based video processing. Functions such as up/down/cross-conversion, de-interlacing and image adjustments are performed directly within the hardware, reducing unnecessary network bandwidth and CPU usage to maximize resource availability for other applications in the NDI workflow.
About NDI® –  (Network Device Interface) software is in the hands of millions of customers worldwide and allows multiple video systems to identify and communicate with one another over IP. NDI can encode, transmit and receive many streams of high quality, low latency, frame-accurate video and audio in real time. This benefits any network-connected video device, including cameras, converters, video mixers, graphics systems, capture cards, and many other production devices.
Further resources
| | |
| --- | --- |
| Magewell Bridge for NDI® | Select |
| NewTek NDI® Tools | Select |
| Compatible Software | Select |
| User Manual for Pro Convert Encoders | Download |
| User Manual PRO Convert Decoders | Download |
| Short FAQs about Pro Convert | Download |
| Description of Mini-DIN8 Breakout | Download |
| Pro Convert Product Selector & Downloads | Select |
Input Features
NDI® Format
Features & Advantages
Input interfaces
• Single-link 6G-SDI input and loop-through
Loop-through Interface
• Support for up to 4096x2160 30fps input
• Support for up to 16 (mono) audio channels


• Support for up to 4096x2160 60fps 4:2:2 8-bit NDI encoding
• Send NDI streams across network segments
• Remotely control PTZ cameras via NDI
• Support for NDI 4.x
• Very low latency
• Advanced configuration and device status through intuitive Web GUI
• Tally lights and camera mounting for live production applications
• HTTP-based APIs for custom integration