Description
Bringing together the worlds of IP-based streaming and baseband AV presentation equipment, the Magewell Pro Convert H.26x to HDMI is a multi-protocol, SRT-compatible streaming media decoder. While earlier Pro Convert models transform professional AV signals to and from NewTek's NDI AV-over-IP technology, the Pro Convert H.26x to HDMI decodes a standard H.264 (AVC) or H.265 (HEVC) compressed video stream into a high-quality HDMI output for connection to baseband monitors, projectors and switchers. Supporting a wide range of streaming protocols for maximum source compatibility, the low-latency decoder has been designed for applications including multi-site video distribution between corporate, educational and church campuses; remote production; surveillance monitoring; digital signage and more..
This is Magewell's first product to support the SRT (Secure Reliable Transport) open source protocol and Magewell is a member of the SRT Alliance. Enabling low-latency video delivery over unpredictable networks, SRT reportedly provides high-quality streaming experiences even over the public internet. Other supported protocols include RTSP, RTMP, UDP, RTP and HTTP streaming.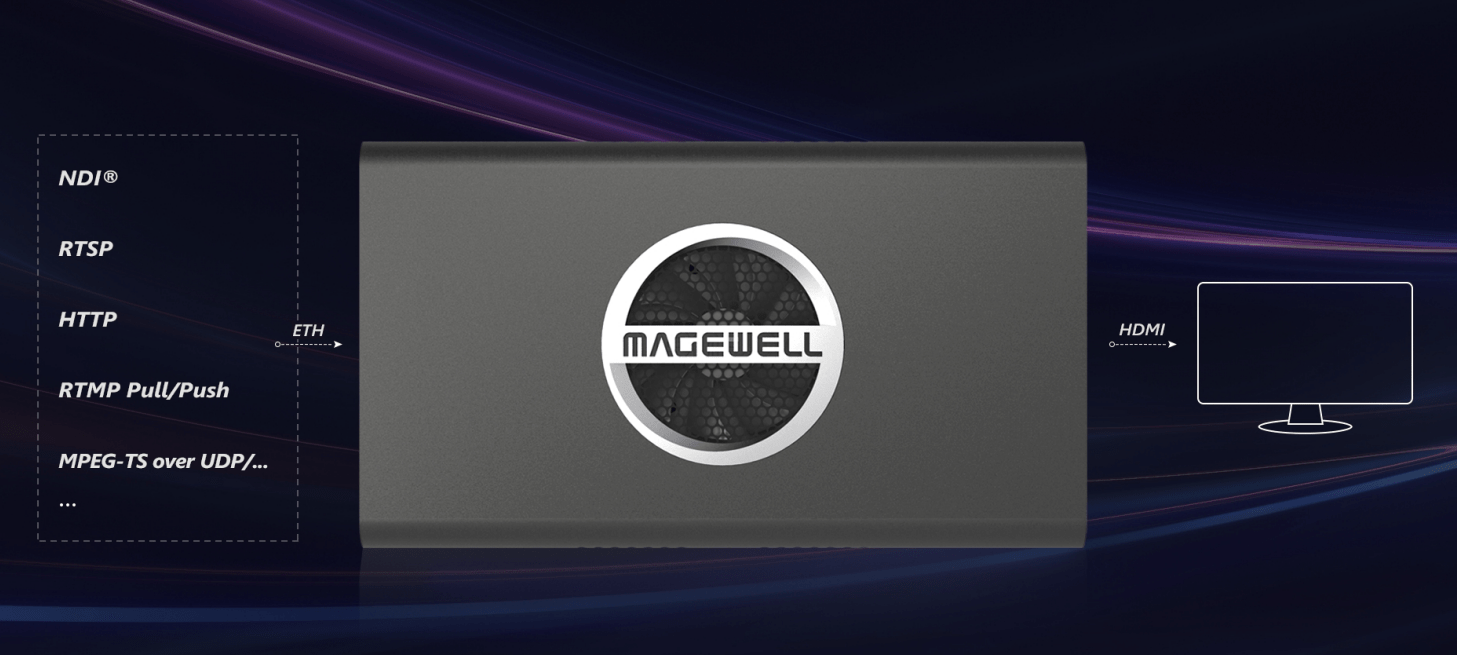 Example of use: How to get video stream from one to many halls/conference rooms ?
There are various ways to do this however the must cost effective way is to use the Pro Convert H26x to HDMI device; Once your main PC is set up to stream the video via the Magewell Bridge to NDI, Newtek NDI Tools or other compatible software then simply plug the device into an ethernet port and on the other side to a HDMI TV or projector and that's it!  The device can get both the video data and power from the ethernet port (with POE) or you could power it up with a USB cable from a PC/laptop or a phone charger. In addition to recognizing and displaying both H.264 and H.265 streams, the Pro Convert H26x to HDMI can also decode video in various formats such as: RTSP, HTTP, RTMP, UDP, SRT, RTP. So really, this is the ideal device to display live H.264 or H.265 streams anywhere with an ethernet connection.
Interface

The Magewell Pro Convert H.26x to HDMI decodes streams up to 2160×1200 at 60fps for output over its HDMI 2.0 interface. Built-in, FPGA-based video processing enables the device to automatically up-convert HD or 2K source streams to 4K for viewing on Ultra HD displays. The plug-and-play decoder features DHCP-based network configuration and can detect the video and audio characteristics of the target display device via EDID metadata, automatically optimising output parameters or providing the user with a range of compatible choices. The device can be powered via an external adapter or PoE.
Browser based interface
Users can specify source stream URLs and control the decoder's advanced settings through a browser-based interface; wired or wireless keyboard or mouse; or using two on-device buttons that overlay an intuitive menu on the HDMI output. Eight channels of AAC or MP3 audio are supported in the input stream with user control of audio gain, sample rate, channel selection and on-screen VU metering. Additional integration features include image flip for inverted projector installations; safe area controls; and aspect ratio conversion. The decoder can be paired with Magewell's intuitive Ultra Stream encoders or third-party hardware or software encoders.
About NDI®
(Network Device Interface) software is in the hands of millions of customers worldwide and allows multiple video systems to identify and communicate with one another over IP. NDI can encode, transmit and receive many streams of high quality, low latency, frame-accurate video and audio in real time. This benefits any network-connected video device, including cameras, converters, video mixers, graphics systems, capture cards, and many other production devices.
Further resources
| | |
| --- | --- |
| Magewell Bridge for NDI® | Select |
| NewTek NDI® Tools | Select |
| Compatible Software | Select |
| User Manual for Pro Convert Encoders | Download |
| User Manual PRO Convert Decoders | Download |
| Short FAQs about Pro Convert | Download |
| Description of Mini-DIN8 Breakout | Download |
| Pro Convert Product Selector & Downloads | Select |
Interface
Control Buttons
HDMI Output Feature
Stream Decoding Features
Firmware
Others
Output interfaces
• HDMI
• DVI-D 1.0
• HDMI 1.4
• HDMI 2.0

USB interface
• USB2.0 Type B 5V/2.1A USB RNDIS/ECM
• USB3.0 Type A for keyboard/mouse

Network interface
• 10/100/1000 Mbps Ethernet
• Support IEEE 802.3af PoE
MENU
press to display the menu, or cycle through the options

SELECT
press to display the menu, enter current option, or confirm the selection

Support up to 4096x2160 60fps HDMI output (by SoC-based up-scale from the decoded HD signals)
• Support for decoding videos in H.264 and H.265 format
• Support for decoding streams of RTSP, HTTP, HLS, RTMP Pull/Push and MPEG-TS over UDP/SRT/RTP
Support manual update using Web UI
LED Indicators

2-year Warranty

1/4-20 Mounting Hole