Description
Magewell Pro Convert HDMI 4K Plus encoder converts HDMI 2.0 signals into full-bandwidth NDI streams with extremely low latency and is truly plug-and play, with automatic input signal format detection and DHCP-based network configuration eliminating the need for manual setup. Source video is converted at its native resolution and frame rate by default, while a browser-based interface offers users control of FPGA-based up/down/cross-conversion, de-interlacing, image adjustments and other video processing. Performing these functions within the Pro Convert HDMI 4K Plus hardware can reduce network bandwidth usage and processing requirements for subsequent tools in the production workflow.
Supporting the growing adoption of 4K video in professional production workflows, the Pro Convert HDMI 4K Plus transforms sources up to 4K Ultra HD at full 60 frames per second. Measuring just 117.5mm by 66.7mm (4.63" by 2.63") and 23.4mm (0.92") thick, the exceptionally compact and energy-efficient device can be powered over its Ethernet connection (PoE) or the included power adapter. The Pro Convert HDMI 4K Plus can make HDMI input signals from any type of device available on a network as an NDI source, and offers value-added features for camera-mounted use including tally lights and NDI-based PTZ camera control

The Magewell Pro Convert HDMI 4K Plus IP encoder hardware provides a standalone, plug-and-play on-ramp from HDMI sources to NDI-based production networks, while the Magewell Bridge software for NDI enables users of Magewell's popular capture devices to convert one or more channels of source video into live NDI streams
Interface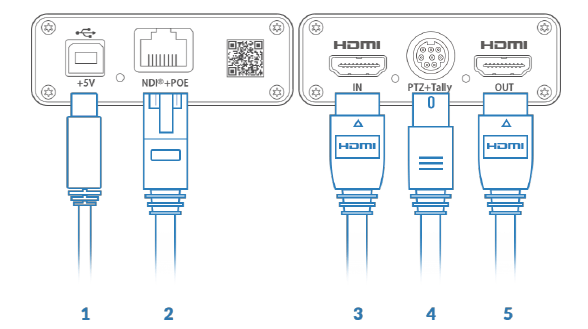 For existing users of Magewell products or customers who prefer a software based conversion solution, Magewell Bridge for NDI allows video and audio from any Magewell capture device to appear as a live source to any other NDI-enabled software and systems on the network. Running on the Windows operating system, the software is compatible with Magewell's USB Capture and USB Capture Plus external devices, Pro Capture PCIe cards and Eco Capture M.2 hardware.
The Magewell Bridge software supports all resolutions and frame rates available through the associated capture device – including Ultra HD video with Magewell's 4K capture models – plus up to eight channels of audio. The software can convert multiple input channels to NDI simultaneously when used with multi-channel capture card models or several Magewell capture devices in the same computer.
About NDI® –  (Network Device Interface) software is in the hands of millions of customers worldwide and allows multiple video systems to identify and communicate with one another over IP. NDI can encode, transmit and receive many streams of high quality, low latency, frame-accurate video and audio in real time. This benefits any network-connected video device, including cameras, converters, video mixers, graphics systems, capture cards, and many other production devices.
Further resources
| | |
| --- | --- |
| Magewell Bridge for NDI® | Select |
| NewTek NDI® Tools | Select |
| Compatible Software | Select |
| User Manual for Pro Convert Encoders | Download |
| User Manual PRO Convert Decoders | Download |
| Short FAQs about Pro Convert | Download |
| Description of Mini-DIN8 Breakout | Download |
| Pro Convert Product Selector & Downloads | Select |
Interface
NDI Encoding
Firmware
NDI® Decoding Features
Others
Input interfaces
• HDMI x1
• Support up to 4096×2160p60

Loop-through Interface
• HDMI x1M
• Support up to 4096×2160p60

USB Interface
• USB 2.0 for power and data transfer

Network Interface
• 10/100/1000 Mbps Ethernet
• Support IEEE 802.3af PoE

Power Interface
• DC+5V

PTZ Interface
• Mini-DIN-8
Up to 4Kp60 4:2:2
Upgradable firmware
• Support for decoding full NDI® and NDI HX in NDI 4.x

• Support for decoding streams of NDI, RTSP, HTTP, HLS, RTMP Pull/Push and MPEG-TS over UDP/SRT/RTP

• Support for decoding videos in H.264 and H.265 format

LED Indicators

Tally Lights

2-year Warranty

SD Card Slot

1/4-20 Mounting Hole