Description
The Magewell Pro Capture DVI 4K card supports single-link and dual-link DVI inputs, capturing video up to 1080p HD over single-link or 4K 2160p30 over a dual-link connection. The card can also support HDMI 1.4 signals up to 1080p with embedded audio using a simple HDMI-to-DVI adapter.
All Magewell Pro Capture cards feature hardware-based video processing, providing high-quality deinterlacing, scaling, color space conversion and video enhancements without taking valuable CPU cycles away from third-party software. Input video can be fed to multiple software applications simultaneously, with independent control of the resolution, frame rate and video processing for each output.
Magewell's universal Pro Capture drivers support Windows, Mac and Linux operating systems, and offer broad compatibility with popular encoding, streaming, live production, collaboration, video conferencing and virtual reality (VR) creation software. For third-party developers, the comprehensive Magewell Pro Capture SDK enables partners to create custom software applications and turnkey solutions leveraging the full feature set and unique capabilities of the Magewell cards.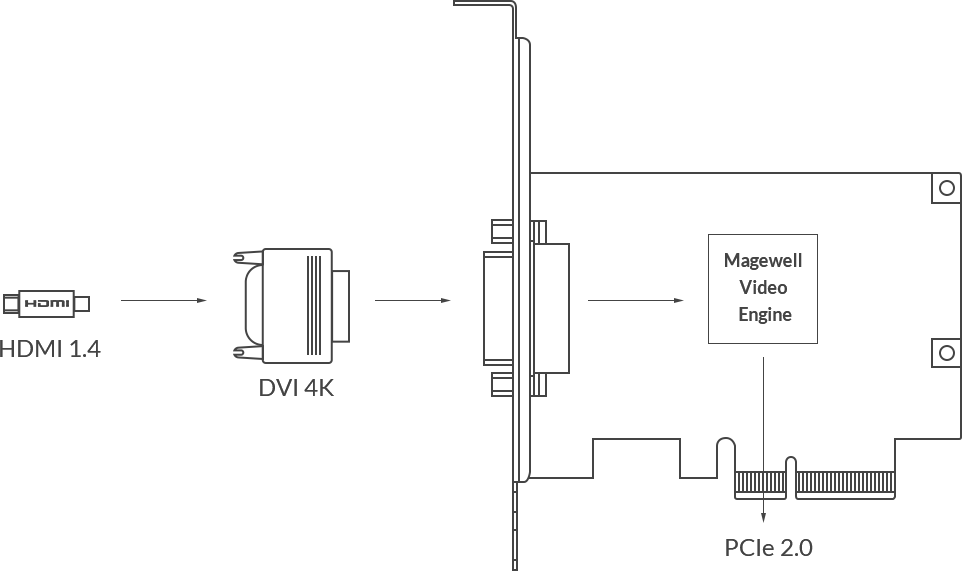 Multiple Magewell Pro Capture DVI 4K cards can be installed within a system; limited only by the number of physical PCIe slots in your system. The number of Output streams are unlimited, and settings for each stream can be independently customised and adjusted. Works with Windows, Mac & Linux Operating Systems; supports multiple APIs for Windows & Linux, and provides Windows SDKs for ease of integration.
The Pro Capture Family brings you the best quality, performance and value. The cards are compatible with both Windows and Linux so more A/V professionals can experience the incredible cards. Pro Capture Family captures all the popular video signals. A FPGA is used for video processing and data transmission, greatly reducing CPU usage. Various features are included to improve the user experience so users can start to capture easily; and the cards maintain stable performance after long periods of use.
Interface
Video Engine
Signal Detection & Support
Software Environment
Input Interface
• DVI x1
• Support input resolution up to 4096×2160 pixels

Host Interface
• PCIe Gen2 x4

10-bit video processing

Deinterlace

Cropping

Color Adjustment

Hardware Timestamp

Color Space Conversion

Up/down Conversion

Aspect Ratio Conversion

OSD

SG-DMA Transmission mode
Auto Detection of Input Signal Format

3D HDMI

Time Code
OS
• Windows, Linux, Mac

Driver and Firmware
• Universal Driver, Updatable Firmware

Included Software
• Capture Express

Compatible Software
50+