Description
The Magewell Pro Capture DVI is an ideal solution for applications that require the capture of HD or sources in real time. Typical applications include: Viewing HDMI or Analog sources from PCs, MACs, Industrial/medical equipment, cameras, game consoles and other video equipment; Streaming video or Broadcasting applications. Video capture from DVI+ audio, VGA + audio, Component + audio or HDMI + embedded audio.
The Pro Capture DVI card by Magewell is a PCIe 2.0 card that captures DVI video inputs to your Desktop PC. Fitting into a single PCIe 2.0 slot, it accepts up to 2 DVI inputs (depending on the variant) at a maximum resolution of 2048×2160. The card also supports multiple colour sampling modes, at 10/12-bits. Additionally, the Pro Capture DVI comes with a range of built-in video processing tools such as cropping, scaling, and format conversion etc.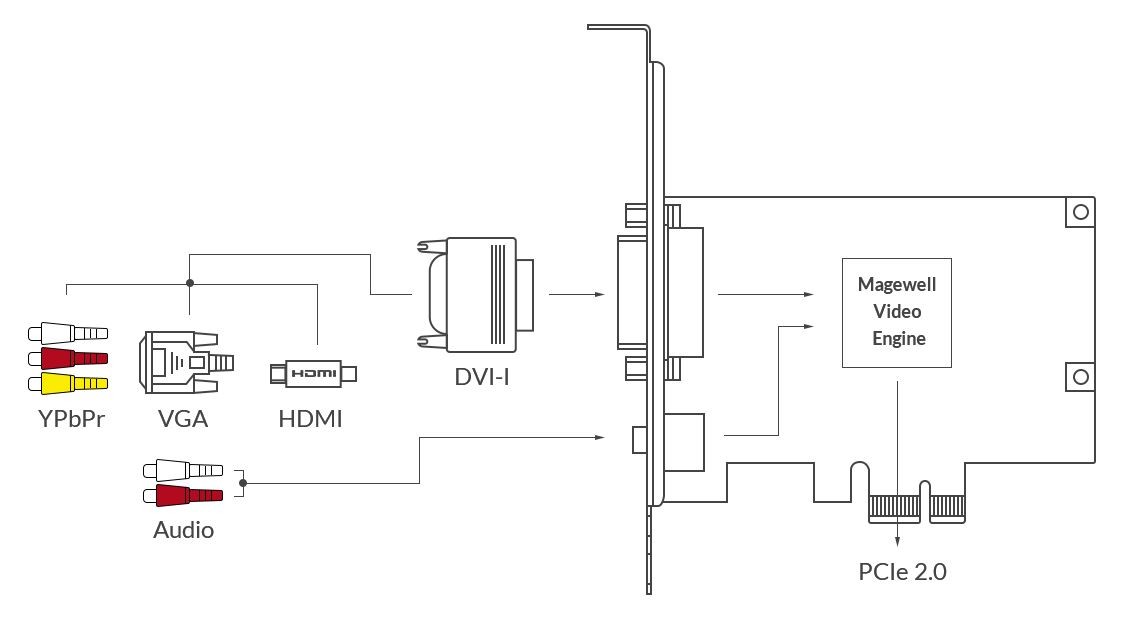 Multiple Pro Capture cards may be installed per system; limited only by the number of physical PCIe slots in your system. The number of Output streams are unlimited, and settings for each stream can be independently customised and adjusted. Works with Windows, Mac and Linux Operating Systems; supports multiple APIs for Windows and Linux, and provides Windows SDKs for ease of integration.
The Magewell Pro Capture is available in single or dual input variations; the single input model features an additional 3.5mm Stereo analogue audio input.
Interface
Video Engine
Signal Detection & Support
Software Environment
Input Interface
• DVI x1
• 3.5 mm audio jack x1
• Support input resolution up to 2048×2160 pixels

Host Interface
• PCIe Gen2 x1

10-bit video processing

Deinterlace

Cropping

Color Adjustment

Hardware Timestamp

Color Space Conversion

Up/down Conversion

Aspect Ratio Conversion

OSD

SG-DMA Transmission mode
Auto Detection of Input Signal Format

3D HDMI

Time Code
OS
• Windows, Linux, Mac

Driver and Firmware
• Universal Driver, Updatable Firmware

Included Software
• Pro Capture Utility, Capture Express

Compatible Software
50+