Description
Magewell Pro Capture HDMI – One of our popular products, is an ideal solution for applications that require the capture of HD or sources in real time. Typical applications include: Viewing HDMI or Analog sources from PCs, MACs, Industrial/medical equipment; cameras, game consoles and other video equipment. Also includes Streaming video or Broadcasting application.
The Magewell Pro Capture HDMI leverages a PCIe x1 bus interface. The Pro capture card is also compatible with Magewell's software developer kit (SDK). This allowing third-party developers to take advantage of the card's features in their own custom software applications; and turnkey solutions. Other models include single, dual and quad input variants; the single input card Pro Capture HDMI features an additional 9-pin D-Sub connector for Composite / Component / S-Video input all with audio.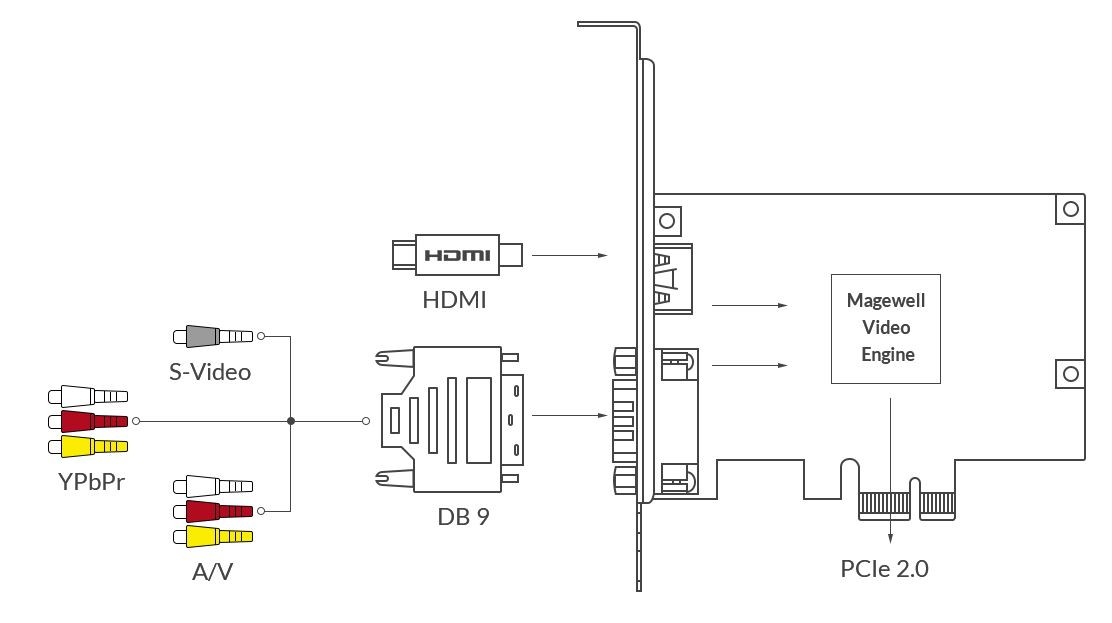 Multiple Capture Streams ¦ Low Latency Mode ¦ Multiple Devices on One Host ¦ Mounting Hole ¦ Continuously Work for 24hx7
High-speed Memory ¦ LED Status Indicator ¦ Rotary Switch ¦ Windows&Linux SDK ¦ 2-year Warranty
Additional info ..
PCIe 2.0; Capture 2k x 2k; Compatible with Windows; Linux; and Mac OS X; Up/Down Scaling; Deinterlacing; Multiple Streaming; Automatically detecting input signal; High fidelity video processing pipeline; Color adjustment; Various output color spaces; SG-DMA transmission mode; Multiple devices on one host; Hardware time stamp; Mounting hole; Rotary switch; High-speed memory; LED indicator; Firmware upgrade; Common driver; Continuously work for 24h x 7;
Compatible Software: Windows: Amcap, Adobe Flash Media Live Encoder, Adobe Connect, Camtasia Studio, Discover Video Multimedia Encoder, Discover Video Streamsie, Google Plus, Hangouts, Gotomeeting, Graphedit, GrandVJ, Metus Ingest, Meridix Broadcast, Producer, Microsoft Lync, OBS (Open Broadcaster Software), Presentations 2Go, Quicktime Player, Real Producer Plus, Resolume, Streambox, Streamstar, Vidblaster, Video Stitch, Vidyo, VirtualDub, VLC, Vmix, Watchout, Windows Media Encoder, Wirecast, XSplit Broadcaster, XSplit Gamecaster, Zoom.us; Linux: Adobe Connect, Gstreamer, Google Plug Hangouts, OBS (Open Broadcaster Software), VirtualDub, Video Stitch, VLC(VideoLAN Client), Zoom.us; Mac OS X: Discover Video Streamsie, mimoLive, OBS (Open Broadcaster Software), QuickTime Player, Skype, VLC, Wirecast Custom proprietary cables are included with this product at no extra charge. There is no need to purchase extra cables.
Interface
Video Engine
Signal Detection & Support
Software Environment
Input Interface
• HDMI x1
• DB9 x1
• Support input resolution up to 2048×2160 pixels

Host Interface
• PCIe Gen2 x1

10-bit video processing

Deinterlace

Cropping

Color Adjustment

Hardware Timestamp

Color Space Conversion

Up/down Conversion

Aspect Ratio Conversion

OSD

SG-DMA Transmission mode
Auto Detection of Input Signal Format

3D HDMI

Time Code
OS
• Windows, Linux, Mac

Driver and Firmware
• Universal Driver, Updatable Firmware

Included Software
• Pro Capture Utility, Capture Express

Compatible Software
50+