Description
The Pro Capture Dual SDI is an ideal solution for applications that require a single flexible card solution for areas such as medical, lecture capture, web casting and video conferencing.
The Magewell Pro Capture Dual SDI Card is a low-profile PCIe Gen2 x4 card that allows for capturing 2 channels of SDI input. The card supports multiple color sampling modes, 10- and 12-bit color depths, up to 8 audio channels at 48 kHz, and output resolutions up to 2048×2048 with frame rates up to 120 fps. The card is also capable of numerous video processing features, including cropping, scaling, de-interleaving, aspect ratio conversion, color format conversion, video frame rate conversion, and video OSD composition.
Magewell Pro Capture Dual SDI Card supports multiple cards per system and unlimited output streams with independently adjustable parameters per stream. Additional features include ultra-low latency, timestamp and A/V synchronization, and LED status indicators. The card supports both Windows, Linux, and Mac operating systems, multiple APIs for Windows and Linux, and provides Windows SDKs for easier integration.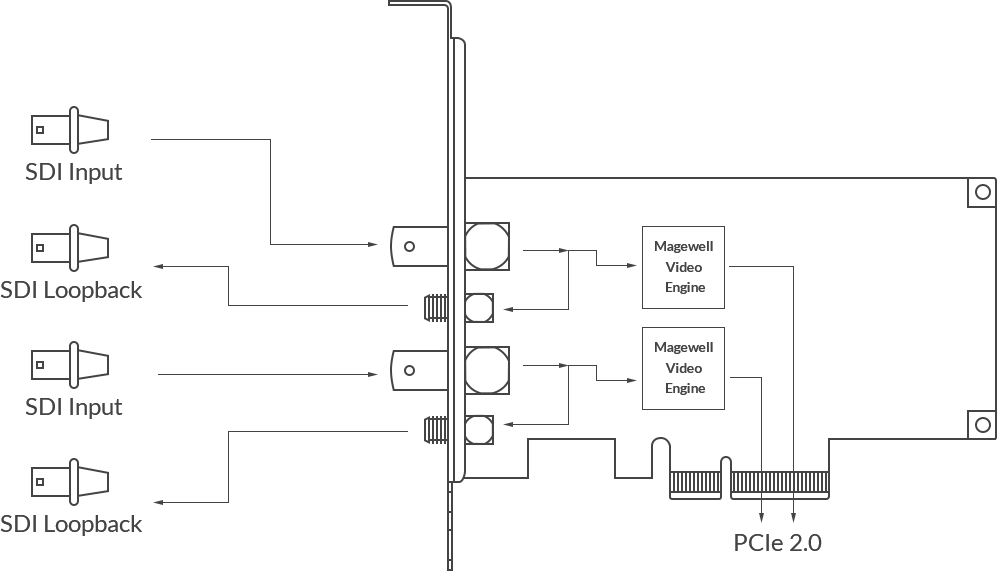 The Magewell Pro Capture Dual SDI supports Windows, Mac and Linux operating systems. Compatible with all popular encoding, streaming, live production, web conferencing, lecture capture, medical imaging and VR creation software. A comprehensive SDK lets third-party developers directly leverage the full; advanced feature set of Magewell cards in custom software applications and turnkey solutions.
Audio / video

Video resolutions
Up to 1080p60, automatic format detection
Audio
8 channels each
latency
Approx. 64 image lines
Conversion and editing
De-interlacing, scaling and color adjustment
Adjustment of frame rate, color space or aspect ratio
Multiple Streaming
One video source can be sent as multiple streams to different software applications. The resolution, frame rate, deinterlacing mode, color adjustment; etc of each stream can be different. For example, users can live broadcast, record and preview a skiing contest simultaneously using Flash Media Live Encoder, Capture Express and Windows Media Encoder.
Interface
Video Engine
Signal Detection & Support
Software Environment
Input Interface
• SD/HD/3G/2K SDI x2
• Support input resolution up to 2048×1080 pixels

Loop-through Interface
• SD/HD/3G/2K SDI x2
• Support loop-through resolution up to 2048×1080 pixels

Host Interface
• PCIe Gen2 x4

10-bit video processing

Deinterlace

Cropping

Color Adjustment

Hardware Timestamp

Color Space Conversion

Up/down Conversion

Aspect Ratio Conversion

OSD

SG-DMA Transmission mode
Auto Detection of Input Signal Format

Time Code

Closed Caption
OS
• Windows, Linux, Mac

Driver and Firmware
• Universal Driver, Updatable Firmware

Included Software
• Pro Capture Utility, Capture Express

Compatible Software
50+