Description
Magewell Pro Capture SDI 4K Plus captures one channel of 4K video at 60 fps over single-link 12G-SDI, dual-link 6G-SDI or quad-link 3G-SDI connectivity. Single-link, 12Gb/s SDI provides an elegant solution for professional 4K transport. However a very high proportion of existing equipment still requires quad-link or dual-link connectivity. With support for all three methods, the single-channel Pro Capture SDI 4K Plus card offers compatibility with both the latest and earlier 4K architectures and systems.
Input video can be fed to multiple software applications simultaneously, with independent control of resolution, frame rate and processing.  FPGA-based video processing provides high-quality up/down/cross-conversion, de-interlacing, color space conversion, graphic overlay and more without taking host system CPU cycles away from third-party software — particularly significant because of the quadrupled processing requirements of 4K video compared to HD.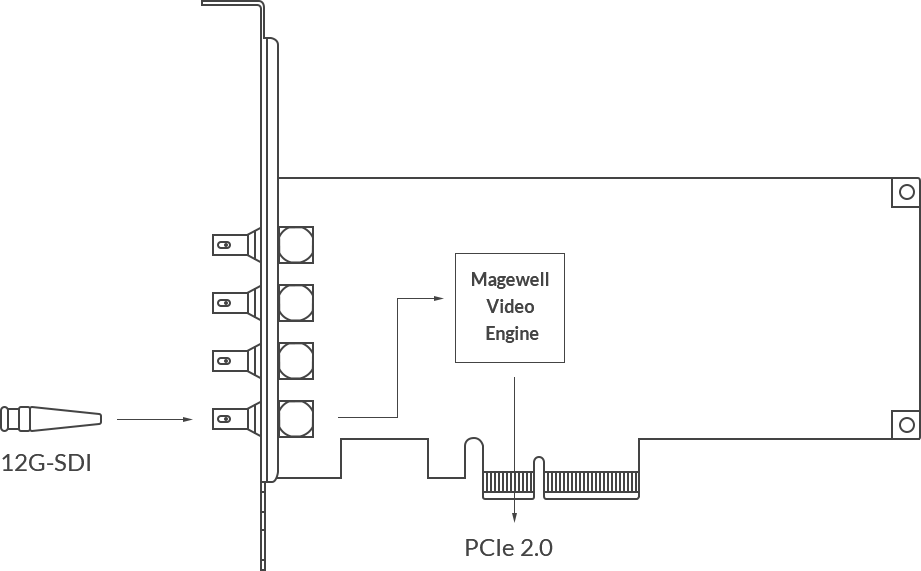 Magewell Pro Capture HDMI Card supports multiple cards per system and unlimited output streams with independently adjustable parameters per stream. Additional features include ultra-low latency, timestamp, and A/V synchronization, and LED status indicators. The card supports both Windows, Linux, and Mac operating systems, multiple APIs for Windows and Linux, and provides Windows SDKs for easier integration.
"The Pro Capture SDI 4K Plus is designed to give customers the best of all worlds, supporting the infrastructure simplicity of 12G-SDI while providing compatibility with cameras, broadcast systems and production gear that are not capable of single-link 12Gb/s connectivity," said James Liu, VP of Engineering at Magewell. "This flexibility is particularly valuable for video production professionals whose equipment may vary between projects, and for systems integrators or OEM developers wishing to offer their customers the most versatile, future-proof solutions."
Interface
Video Engine
Signal Detection & Support
Software Environment
Others
Input Interface
• SD/HD/3G/2K/6G/12G • SDI x1
• SD/HD/3G/2K/6G SDI x1
• SD/HD/3G/2K/SDI x2
• Support input resolution up to 4096×2160 pixels

Host Interface
• PCIe Gen2 x4

10-bit video processing

Deinterlace

Cropping

Color Adjustment

Hardware Timestamp

Color Space Conversion

Up/down Conversion

Aspect Ratio Conversion

OSD

SG-DMA Transmission mode
Auto Detection of Input Signal Format

Time Code

Closed Caption
OS
• Windows, Linux, Mac

Driver and Firmware
• Universal Driver, Updatable Firmware

Included Software
• Pro Capture Utility, Capture Express

Compatible Software
50+
Multiple Capture Streams

Low Latency Mode

Multiple Devices on One Host

Mounting Hole

Continuously Work for 24hx7

High-speed Memory

LED Status Indicator

Rotary Switch

Windows&Linux SDK

2-year Warranty