Description
The Magewell Pro Capture Quad SDI is an ideal solution for applications that require a single flexible card solution for areas such as medical, lecture capture, web casting and video conferencing. Four SDI input video capture card.
Magewell Pro Captue Quad SDI capture card acquires streaming video from other devices that support SDI format such as SDI cameras. A single Magewell capture card can capture video from 1,2, and 4 video streams simultaneously.
One video source can be delivered as any number of normal streams or two real-time streams to different software for processing. The resolution, frame rate, de-interlacing mode, image control, etc of each stream can be different. Each stream can reach the set frame rate with no frame drops. For example, users can live broadcast, record and preview a skiing contest simultaneously using Flash Media Live Encoder, Capture Express and Windows Media Encoder. This function causes 0 CPU usage.
Multiple cards can be installed on the same host and work at the same time. Mark the card by setting the number on the rotary switch.
There are hexadecimal numbers on the rotary switch. Users can set the number on the rotary switch on each card. The number will appear together with the name of the cards in device manager and video capture software. When multiple same cards are mounted, the user can locate a certain card quickly by the number.
Magewell capture cards also support super-low processing and transmission latency down to 64 video lines. For example, the capture latency of 1080p 60Hz and YUY2 can be lower than 1 ms. Low-latency mode doesn't require SDK integration. To further reduce the total latency, users can integrate Magewell SDK to enable partial notification function.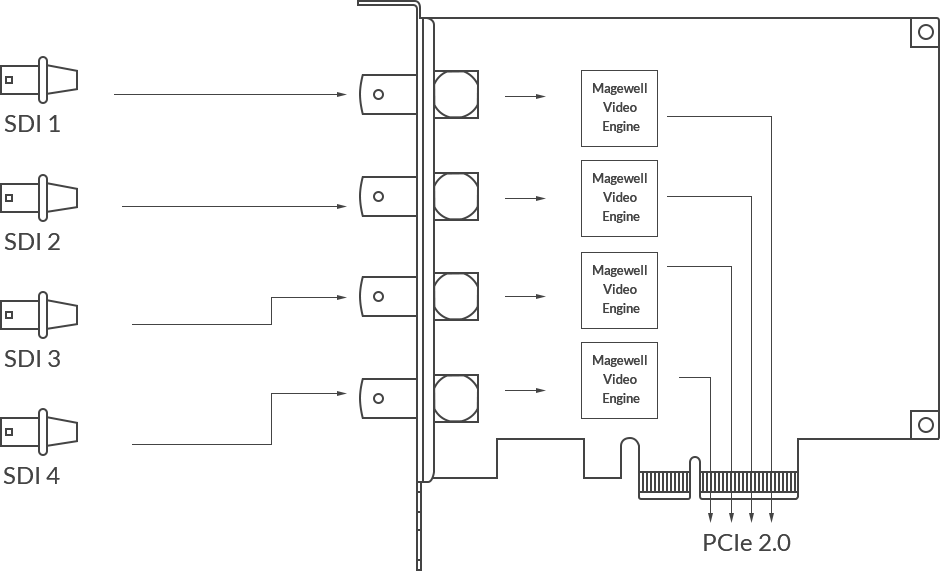 Interface
Video Engine
Signal Detection & Support
Software Environment
Input Interface
• SD/HD/3G/2K SDI x4
• Support input resolution up to 2048×1080 pixels

Loop-through Interface
• SD/HD/3G/2K SDI x2
• Support loop-through resolution up to 2048×1080 pixels

Host Interface
• PCIe Gen2 x4

10-bit video processing

Deinterlace

Cropping

Color Adjustment

Hardware Timestamp

Color Space Conversion

Up/down Conversion

Aspect Ratio Conversion

OSD

SG-DMA Transmission mode
Auto Detection of Input Signal Format

Time Code

Closed Caption
OS
• Windows, Linux, Mac

Driver and Firmware
• Universal Driver, Updatable Firmware

Included Software
• Pro Capture Utility, Capture Express

Compatible Software
50+